Dr. Partho Pratim Bishnu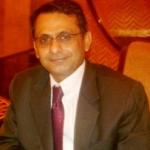 Introduction
Dr. Partha Bishnu is currently associated as a Senior Consultant Neurosurgeon with Rabindranath Tagore Hospital, Narayana Health, (previously Narayana Hrudayalaya, in Kolkata), India.
Dr. Bishnu will be performing Skull Base surgery (including Pituitary Tumors), Pediatric Brain Tumor surgery and Minimal Access Spine Surgery.
Dr. Partha Bishnu has been managing various Brain and spinal lesions independently, in his corporate practice, since the time he has been working as a Consultant in Neurosurgery for about 21 years.
Expertise
Microsurgery/ Microendoscopic surgery for Sellar & Suprasellar Tumors in adults and children. Endonasal and Transcranial approaches
Epilepsy Surgery
Minimal Access Spinal Surgery: Cervical/ Lumbar Spine disorders
Anterior Circulation Cerebral Aneurysm Surgery
Spinal Reconstruction for Traumatic, Tuberculous, Neoplastic spinal lesion and for Multi Segmental Cervical Spondylosis
Fellowships and Memberships
Life Member of Neurological Society Of India
Life Member of Neuro Spinal Surgeons Foundation India
Life Member of Indian Society of Cerebrovascular Society
Life Member of Association of Spine Surgeons of India
Life Member of Skull Base Society of India
Unique Contribution
Initial experience and results of direct microsurgical approach to Cavernous Sinus lesions in 40th National Conference of Neurological Society of India, 1991 at Manipal
Delayed Decompression in Spinal Trauma in first National Neuro-trauma Conference, 1992 in Hyderabad
Impact of MRI in delayed phase of Spinal Trauma in 2nd National Neuro-trauma Conference, 1993 at Madurai
Delayed Surgical treatment in Partial Spinal Cord injury in the 10th International Congress of Neurological Surgery, 1993 at Acapulco, Mexico
Clinico-radiological correlation in Chronic Subdural Haematomas in 6th National Neuro-trauma Conference, 1997 in Varanasi
Lumbar Micro-discoidectomy - Case selection and Results in 46th National Conference of Neurological Society of India, 1997 at Jaipur
Cauda Equina tumours and Sciatica syndromes - a report of eight cases in 46th National Conference of Neurological Society of India, 1997 at Jaipur
Skull Base lesions - Initial experience at Neuro - Sciences Center, Peerless Hospital in Inaugural Conference of Skull Base Society of India, 1998, New Delhi
Temporal pattern of neurological recovery – an analysis of 39 cases of acute spinal cord injury in 16th National Conference of Association of Spine Surgeons of India (ASSICON) 2003, Varanasi
Traumatic Subarachnoid Haemorrhage in non-penetrating Brain Injury, Part-1. Initial observations on Clinical course versus admission computed tomographic findings in 13th Annual National Neurotrauma Conference, 2004, Ludhiana
Faculty speaker-Newer Treatment Strategies in Malignant Gliomas, Neuro-oncology Update CME- Efficacy and Safety of 2Deoxy-D-Glucose as a Radio modifier, Rajiv Gandhi Cancer Institute & research Center, Delhi, Mar 2006
Faculty Speaker- Interlaminar Approach for Lumbar PIVD in 8th National Conference of NSSFI, 2008, Rajkot, India
Plenary session on Multidisciplinary approach to skull base tumors- 'Approaches to the Skull base- Microscope - Endoscope', in 2nd International conference on FESS, 2011, Guwahati, India
Temporal Pattern of Visual Recovery in Pituitary macrodenomas following surgery; in 15 th Skull base surgery society of India conference held with WFNS, 2-6 th Oct 2013; Chandigarh, India
Workshops:WFNS Education Course- Robert Spetzler Skull Base and Neuroendoscopy Brain and Spine. Hands on Workshop, Goa, May 2008
Faculty/Speaker Symposium on Lumbar PIVD and Cadaveric Workshop on MED in Lumbar Spine, in 8th National Conference of NSSFI, 2008, Rajkot
Skull base conference- and Workshop of SBSSI, and International CME of Skull Base Surgery, Mumbai, 2008 Workshop conducted by Prof. CN Sen
Faculty/Speaker for Live Skull base / FESS workshop and International symposium, FESCON,2011, GNRC, India
Conferences:Chairperson, session in the 5th International Clinic of Neurological Surgery-Minimally Invasive Neurosurgery, Nov 2005, Noida
Chairperson, session in the 15th National Neurotrauma Conference, New Delhi, Aug 2006
Invited Faculty- RGCON 2006-Head and Neck Oncology- 5th International conference Rajiv Gandhi Cancer Institute & research Center, Delhi, Mar 2006
NeuroVascon-2008, Indian society of cerebrovascular Surgery, 2008, Kolkata
Faculty/ Speaker for 1st International Conference on Critical Care; Neuro-critical care in Traumatic brain Injury; under the aegis of Critical Care Society of Bangladesh, March 2013; Dhaka, Bangladesh