Dr. Rajeev Rathi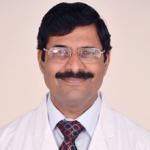 Education :
M.B.B.S. and MD(Medicine)
Introduction
Over 18 years of experience in performing complex coronary angioplasties including chronic total occlusion, bifurcation lesions, left main stenosis and peripheral interventions
Special expertise in trans-radial coronary angioplasties. He is a teacher and mentor to fellow interventional cardiologists for Trans-radial interventions
Proficient in treating mitral, aortic, pulmonary valves and adult congenital heart disease by catheter intervention
Has been instrumental in establishing cardiac catheterisation laboratory of Apollo hospital Bilaspur and Medical College Raipur. He started the era of interventional cardiology in the state of Chhattisgarh
Fellowships and Memberships
Pioneered "Hriday Suraksha Abhiyan", a groundbreaking project in Central Coal Field Ltd., Ranchi to provide immediate and best possible treatment to victims of heart attacks
Has developed "the heart app"- a free app to recognize early symptoms of heart attack and angina that can be used by general population and medical professionals alike
Has been offering his free services for video-consultation to the Border Security Force, for their people in remote areas which have been widely appreciated by the soldiers and their families.
Cardiological Society of India
European Society of Cardiology
Society of Cardiovascular angiography and Interventions (USA)
Awards and Achievements
Felicitated by Government of Chhattisgarh for distinguished services
Felicitated by Central Coal Fields Ltd for cardiac services
Honorary professor at Pt. J. N. Medical College, Raipur
Seventeen publications in various national and international journals
Involved in various international trials as principal investigator and co-investigator
Distinguished presenter of challenging cases at all the major international cardiology conferences (TCT, ACC and Euro PCR)
Creator of "Hriday Suraksha Abhiyan", a novel and groundbreaking project in Central Coal Field Ltd., Ranchi that strives to provide immediate and best possible treatment to all victims of heart attacks in peripheral regions
Creator of a unique app for smartphones, The Heart App, which aims to empower patients to recognise symptoms of heart attack early and also provides assistance to health professionals in diagnosing heart attack
Unique Contribution
Credited with 18 publications in various national and international journals
Actively involved in various research projects and clinical trials as a principle and co-investigator