Dr. Sujoy Maitra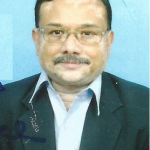 Specialization :
Gastroenterology and Hepatology
Introduction
Trained as a Type 1 Specialist Registrar in Gastroenterology and Liver diseases, in UK. Trained in a wide spectrum of hepatobiliary, luminal gastroenterology disorders and different aspects of liver transplantation and management of complex liver problems.
Working independently as Consultant Gastroenterologist mainly at different Superspeciality Hospitals Kolkata for last seven years and have been involved in managing all kinds of gastroenterology patients. Performing independently all kinds of upper and lower GI procedures both diagnostic and therapeutic including EVL, dilatation, stenting, polypectomy and various kinds of bleeder management.
His Clinical Interests are:
Previous Experience
Acute unselected take in General (Internal) Medicine as SHO since 1996. I have been involved in unselected take as Registrar on call since February 2001 in India and thereafter since April 2004 in UK. I have comprehensive knowledge of internal medicine and fluent in management of all types of medical emergencies and all the routine emergency interventional procedures.
Fellowships and Memberships
Indian Society of Gastroenterology
British Society of Gastroenterology
British Medical Association
Unique Contribution
Factors affecting the outcome of Intensive care patients with decompensated Alcoholic liver disease
This project was with Dr Ian Nesbitt, Consultant Intensive Medicine, Freeman Hospital, Newcastle. I was the lead of this project.
Effectiveness of tissue Transglutaminase in monitoring compliance in Celiac Disease
This was a project with Dr John Mansfield, Consultant Gastroenterologist RVI, Newcastle as the lead. I was mainly involved in analysing the data and writing up the abstract, accepted at BSG 2007 at Oral presentation.
Trends in Alcohol-related Mortality & Morbidity in Hospital Population
We looked into the trends over last two years in University Hospital Hartlepool and compared with the national trends. I was the lead in this project along with Dr. J.Vasani, Consultant Gastroenterologist and the Gastroenterology Specialist Nurse.
Presented as poster at World Gastroenterology Congress, Montreal 10th –14th September 2005.
THESIS
A Study of Renal function in Cirrhosis of Liver Project submitted to and accepted as a dissertation by the Calcutta University for the award of MD (General Medicine) degree 1999.
Publications
ORIGINAL ARTICLE:-
Anti-tissue transglutaminase antibodies in the follow up of adult Coeliac Disease. Aliment Pharmacol Ther 30; 236-244
ABSTRACTS:-
Maitra S, White S, Torrance A, Matthewson K. Fall in PEG insertion rate in Northern England following NCEPOD. Gut 2007. March Supplementary
Maitra S, Mansfield J et al. Anti tissue transglutaminase antibody quantification is useful in the follow-up of coeliac disease patients. Gut 2007 March Supplementary
Maitra S, Vasani J et al. Alcohol Related Mortality and Morbidity in a District General Hospital Population in North Eastern UK. Gut. 2006 March Supplementary
Maitra Sujoy, Vasani J etal. Impact of a Multidisciplinary IBD Clinic in a District General Hospital. Gut. 2005 March Supplementary
Maitra Sujoy, Chaudhury.B.K et al. Effectiveness of a nurse-led anaemia clinic in identifying iron deficiency and planning further management. Gut. 2004 September; Supplementary
Jale Rajesh, Maitra S et al. Compliance with RCR guidelines for MRCP: Impact on diagnostic ERCP services in a District General Hospital. Book of Abstracts. Royal College of Surgeons Quincentenary Congress 2005
Maitra Sujoy, Pahari. D.K. Estimation of Glomerular Filtration Rate in patients of Cirrhosis of Liver. Indian Journal of Nephrology.1998 September; 8:109