Dr. Pradeep Singh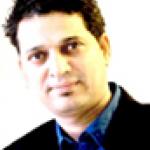 Specialization :
Orthopaedics, Joint Replacement & Spine
Introduction
Dr Pradeep K Singh is working as a Full Time Consultant Spine Surgeon with Dr L H Hiranandani Hospital. Previously he was working as Professor and Head of Department of Orthopaedic and Spine Surgery at the Jawharlal Nehru Medical College, and University hospital. He graduated from Netaji Subhash Chandra Bose Medical College and Hospital, Jabalpur in 1996 and received his Master in Orthopaedics surgery in 2001. He worked as Senior Registrar at Bombay Hospital and Research centre, Mumbai from 2001 to 2002. He worked in the university hospital of Newcastle upon Tyne and South Tyneside District Hospital, South Shields, 2005-06 and later joined as an Professor in the Department of Orthopaedics and Head of the spine unit at Jawaharlal Nehru Medical College, Wardha.
He has done more than 4000 spine surgeries including minimal invasive spine surgeries, deformity corrections, spine cord injury, spinal instrumentation, degenerative diseases and infections. He is trained in doing cervical spine, thoracic and lumbar spine surgeries. He did his Fellowship in Neurosurgery from The University Hospital Klinikum rechts der Isar Munchen. He completed his Fellowship in Minimal invasive Spine Surgery from Singapore General Hospital, Singapore and Endoscopy training from USA. Dr Singh was awarded Doctor of Philosophy PhD in Orthopaedics recently for his research work in Osteobiologics.
He is Editor in chief of The Journal of Orthopaedics and Allied Sciences. He is also editors in various international journals. He has more than 60 publications to his credit and authorship in 3 text book in Orthopaedics and spine. Dr. Singh writes and lectures extensively on Spine Surgeries. He has given over hundred lectures at professional meetings.