Dr. (Col.) C.P. Roy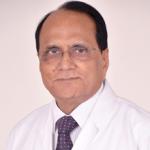 Introduction
He is Head of Department of Medical Education (Cardiology) and Senior Consultant, Cardiology. He is also Incharge of training DNB Cardiology and PGDCC (Post Graduate Diploma in Clinical Cardiology).
Dr. (Col.) C.P. Roy VSM did his MBBS & MD (Medicine) from Armed Forces Medical College, Pune and DM (Cardiology) from PGI Chandigarh.
He has the experience of having worked at various Army Hospitals for over 30 years. He was the Professor of Cardiology at the (Armed Forces Medical College), Pune where he was engaged in training DM Cardiology. He is a post graduate teacher and examiner for DM & DNB Cardiology.
He has been awarded the 'VishishtSewa Medal' by the President of India for his outstanding contribution to the field of Cardiology.
Prior to joining Max Healthcare, Dr. (Col.) C.P. Roy VSM was working as a Senior Consultant in Cardiology for 8 years at Escorts Heart Institute & Research Centre at New Delhi. During that period, he was actively engaged in training DNB (Cardiology) students. He also has an excellent record of academic achievements and many publications to his credit.
Fellowships and Memberships
Indian College of Cardiology (FICC)
Indian Academy of Echocardiography (FIAE)
International Medical Sciences Academy (FIMSA)
American College of Cardiology (FACC)
Fellow of Cardiological Society of India (FCSI)
Fellow of European Society of Cardiology (FESC)