Dr. Pravin Kahale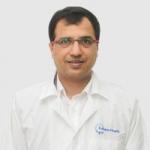 Education :
MBBS, MD (Gen Medicine), DM (Cardiology)
Introduction
Dr. Pravin Kahale is an Interventional Cardiologist at Kokilaben Hospital.
He has had his specialty medical training at Sion Hospital and super specialty training at Nair Hospital where he also served as Lecturer in Cardiology for one and half year. Observer in advanced heart failure and cardiac transplant at University of Chicago. In addition, he has trained in one of the best institutes in the world in the field of Interventional Cardiology at Haifa, Israel.
Expertise

Heart Failure Interventional cardiology Heart Transplant, Pulmonary Hypertension
Services Offered

Interventional Cardiology: Complex Angioplasty, Rotablation Intravascular ultrasound (IVUS), Fractional Flow Reserve (FFR), Implantation of Biodegradable scaffolds, Heart Failure : Implantation of Pacemaker: Automated Intra Cardiac Defibrillator (AICD) and Cardiac Resynchronisation (CRT), Heart Failure assessment, Catheterisation Study, Mechanical Assist Device (Artificial Heart), Heart Transplant Follow-up, Cardiac , Pulmonary Hypertension: Special Catheterisation
Fellowships and Memberships
Rambam Medical Centre, Haifa, Israel Advanced training in cardiac resyncronization (complex pacemaker) from Germany.
Unique Contribution
Dr. Kahale has a number of publications in International & National Journals. Did India's first primary angioplasty with biodegradable scaffolds in Dec 2012.