Dr. Mukut Minz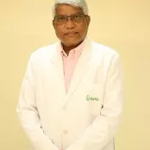 Introduction
Dr. Mukut Minz, former Prof & Head, Department of Renal Transplant Surgery, PGI, Chandigarh, has been a stalwart in Transplant Surgery in the country. He joined PGI in 1980 and has over 30 years of experience in this field. He was elevated to the post of Senior Professor in 2008 and member of Governing Body of PGI in 2015. He received advanced training in cadaver organ retrieval and transplantation at various centres/universities of Norway, Sweden, Germany and USA. He set up a new department of Renal Transplant Surgery in PGI and performed over 3,300 kidney transplants. Dr Minz successfully established Combined Kidney-Pancreas Transplant Programme for type 1 diabetics with kidney failure in PGI, which is currently a leading pancreas transplant centre in North India. Under his mentorship the department has also performed several complicated dialysis access procedures (AV Fistulas for hemodialysis). He has trained over 30 transplant surgeons, many of whom are holding academic positions in India, US, UK and Australia. He has been a Visiting Professor in various universities in India and has been conferred several awards and honours.
Area of Expertise
Multiorgan Retrieval & Transplant from cadaver
Dialysis access procedures (AV fistulas/PTFE vascular grafts for hemodialysis)
Vascular surgery (including Shunt surgery for portal hypertension)
Kidney transplant in abnormal bladder (ileal conduit/augmentation cystoplasty)
Surgery for Reno vascular hypertension/renal auto transplantation
Transplant immunosuppression
Previous Experience
Dr. Mukut Minz, former Prof & Head, Department of Renal Transplant Surgery, PGI, Chandigarh, has been a stalwart in Transplant Surgery in the country.
He joined PGI in 1980 and has over 30 years of experience in this field.
He was elevated to the post of Senior Professor in 2008 and member of Governing Body of PGI in 2015.
He received advanced training in cadaver organ retrieval and transplantation at various centres/universities of Norway, Sweden, Germany and USA.
Fellowships and Memberships
Oslo, Norway
Gothenburg, Sweden
Heidelburg, Germany
Munich, Germany
Minneapolis, US
Awards and Achievements
Odisha Gaurav Samman 2012 conferred for exemplary work in the field of transplantation.
Prof RVS Yadav Memorial Oration at XVIIIth Annual Conference of Indian Society of Organ Transplantation, Bangalore
Bhubaneshwar Oration 2015, Association of Surgeons of India, Orissa Chapter
Unique Contribution
Performed the first cadaver kidney transplant at PGI in July 1996
Performed the first laparoscopic donor nephrectomy in 2004
Established combined kidney-pancreas transplant in Type 1 diabetics with kidney failure
Conducted first National CME on Pancreas transplant at Chandigarh in 2016