Dr.Quazi Ahmad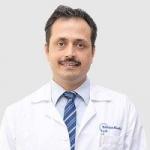 Education :
MBBS, MS (Surgery), DNB (Surgery), MRCS (EDINBURGH), MCh (Plastic Surgery), MNAMS
Introduction
Fellowships
Visiting fellow to Changung Memorial Hospital, Taipei, Taiwan
Visiting fellow to plastic surgery department, Tokyo University, Japan
Expertise
Invasive cosmetology & Dermatology
Services Offered
Micro Vascular Surgery , Breast Cosmetic and Reconstructive Surgery, Liposuction and Body Contouring Surgery, Hair Transplantation, Faciomaxillary injuries ( Facial bone fracture and soft tissue injuries), Hand Surgery (Nerve, Vessel, Tendons and bony injuries), Surgery of Face, Burns Reconstruction
Languages spoken
Hindi, English, Marathi & Urdu
Dr. Quazi Ghazwan Ahmad is a plastic surgeon, with more than 14 years of experience, in micro vascular surgery.
KDAH Experience :
He performs all types of cosmetic breast surgery (mammaplasty) including Breast augmentations (breast implant/boob job), Reduction mammoplasty (breast reduction), Breast lift or tightening (Mastopexy), Breast reconstruction after removal of breast as cancer management. He has huge experience of Head and neck cancer reconstruction surgeries and has managed more than 800 cases. He regularly performs body contouring surgery like liposuction, abdominoplasty (tummy tuck surgery), thigh, buttock and arm lift.
He has acquired special training in hair transplantation. He performs hair transplantation by both the popular technique of hair transplant namely strip harvest (FUT technique) or the stitch less technique of Follicular Unit Extraction (FUE technique) by the specially designed powered blunt punches.
His areas of special interest include cosmetic plastic surgery of face (face lift or rhytidectomy), eyelid cosmetic surgery (blepharoplasty), rhinoplasty, otoplasty (reshaping of ears), dimple creation, removal of double chin and neck contouring surgery.
He has ten years of experience in the field of plastic surgery. Earlier he was a part of medical team at:
Tata Memorial Hospital, Mumbai
Aligarh Muslim University, Aligarh, UP
Publications :
Thirty publications in international and national peer reviewed journals
Associations/Professional Membership :
Member of Association of Plastic Surgeons of India
Member of Royal College of Surgeons of Edinburgh UK
Member of Breast Reconstruction Awareness Group, India
Member of National Academy of Medical Sciences, New Delhi
Member of Association of Reconstructive Microsurgeons of India
Member of Association of Plastic Surgeons of Maharashtra