Dr. Yogesh Kulkarni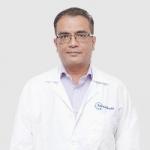 Education :
MBBS, MD (Gyn & Obs), DNB (Gyn & Obs)
Introduction
Services Offered
Screening for cervical cancer – Pap Smear/Liquid based cytology/ HPV testing, Colposcopy clinic, Excisional procedures for Premalignant lesions of cervix – ( Loop electrosurgical excision, Cryotherapy, cone biopsy ), Evaluation/consultation and counseling for high-risk individuals due to strong family history of Ovarian/Breast cancers, Surgical interventions for diagnosed cases of Gynecological cancers., Radical Hysterectomy ( Wertheim's Operation), Surgery for early Ovarian cancer ( Staging Laparotomy), Surgery for advanced Ovarian Cancer ( Debulking Surgery), Surgery for Endometrial cancer, Total pelvic Exentration, Anterior/Posterior pelvic Exentration, Pelvic/Paraaortic ( Retroperitoneal ) lymph node dissection, Radical Vulvectomy + Groin node dissection, Robotic assisted surgery for Gynecological cancers
Languages spoken
Hindi, English, Marathi
Experience
Dr Yogesh Kulkarni is a Consultant Gynecological Oncosurgeon at Kokilaben Hospital. After completing his residency in Obstetrics & Gynecology, He worked as a lecturer, Dept. of Obstetrics & Gynecology for five years at the prestigious Grant Medical College, KEM & Wadia Hospital. Later he joined Tata Memorial Hospital, a premiere Cancer Hospital and Research Centre, as a Fellow in and then continued as Specialist Registrar in Gynecological Oncology. During training at Tata Hospital, he had a wide exposure to all types of Gynecological Cancer cases, with a well-organized multimodality approach to managing them.
At Tata Hospital he received extensive training in Gynecological cancer surgeries and also in colposcopy and related procedures. During his training at Tata Hospital, he has performed /assisted over 800 Gynecological Cancer Surgeries which Included Radical Hysterectomy/Radical Vulvectomy/ Surgery for advanced Ovarian Cancers/ Pelvic& paraortic Lymphadnectomy/Illioinguinal Lymph node dissection / surgery for Carcinoma Endometrium and Uterine Sarcomas Dr Kulkarni has a strong academic & research interest and has 12 publications to his credit. He has also presented scientific papers and contributed as an invited faculty at various National & International conferences
KDAH Experience
At Kokilaben Hospital he has performed over 1000 complex Gynecological Cancer surgeries till date. He has performed over 200 robotic surgeries for Endometrial and Cervical cancers. At Kokilaben Hospital Dr Yogesh Kulkarni performed the first Reported Fertility Sparing Surgery (Radical Trachelectomy) for cervical Carcinoma in India on a 4 yr old girl diagnosed with clear cell carcinoma of cervix
Proffesional Highlights
He has numerous publications in international journals and has presented at various national and international meetings. He also has authored chapters in various textbooks in Gynaecology & Obstetrics.
Fellowships and Memberships
International Gynecological Cancer Society
European society of Gynecological Oncology
Association of Gynecological Oncologist of India
Mumbai Obstetrics & Gynecological society
Federation of Obstetrics & Gynecologic Societies of India