Dr. Vijay Ramanan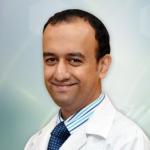 Specialization :
Bone Marrow Transplant Specialist
Introduction
Dr. Vijay Ramanan is a consultant Bone Marrow Transplant Specialist associated with Ruby Hall Clinic, Poona Hospital & Research Center, Yashoda Hematology Clinic, Pune. He is a pioneer of cord blood transplant in India. He has performed over 150 Bone Marrow transplants in Ruby Hall Clinic. Dr. Ramanan has started Thalassemia Day Care under the aegis of Red cross, Pune.
He also runs Yashoda Hematology Clinic which is the only stand alone Lab working on Hemophilia and Thrombophilia. The Center was a leading recruiter for a clinical study under Dr. Mannuchi of Milan University. Dr. Vijay Ramanan was an Ex-Assistant professor at B.J Medical College and Sasson General Hospital.
Languages :
Marathi, Hindi, English, Telugu, Tamil, Kannada, Malayalam
Experience
Director, Bone Marrow Transplant Specialist, Ruby Hall Clinic 2006 - Present
Specialities
• Bone Marrow Transplant
• Hemato Oncology
• Hematology
• Medical Oncology
Expertise
• Aplastic anemia and other nutritional anemias
• Polycythemia
• Neutropenia, P.U.O.
• Thrombocytopenia of all types-ITP, Dengue etc
• Haemophilia and other bleeding disorders
• Thalassaemia and other haemoglobinopathies
• Problems with immunity - cogenitial of acquired
• Recurrent pregnancy losses
• Myelodysplastic syndrome
• Leukemias: CML/CLL/AML/ALL
• Lymphoma - Hodgkin's and Non Hodgkin's
• Myeloma and other cancers, myclofibrosis
• Bone marrow transplantation and allogenic/autologous peripheral blood steam cells transplant
• Chemotherapy
Education
• DM Clinical hematology from C.M.C Vellore, which has the most advanced hematology labs in Asia
• DM in CLINICAL HAEMATOLOGY/HAEM-ONCOLOGY in Maharastra, Madhya Pradesh, Gujarat, Andra Pradesh
• MD and DM Done his MBBS and M.D.(Medicine) from prestigious B.J. Medical College, Pune
• Training as D.M in Clinical Hematology from Christian Medical College, Vellore with Dr. Mammen Chandy