Dr. Satpal Pannu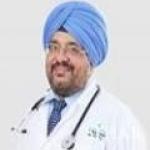 Introduction
20 years experience in Ophthalmology in large and tertiary care hospitals of the Indian Navy.
Later worked as a Consultant in Saifee and Prince Aly Khan Hospitals, Mumbai.
Performed high volumes of phacoemulsification surgeries with foldable IOLs using the latest techniquesrecognized post graduate teacher of Mumbai University and worked there as Associate Professor

Conditions

Expertise

Squint and ocular surface disorders

Education

Under graduation from Armed Forces Medical College, Pune
Post graduation from Bombay University.