Dr. Rushi Deshpande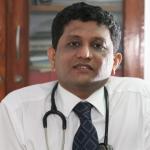 Education :
DM (Nephrology), DNB (Nephrology), MD (General Medicine)
Introduction
Dr. Rushi Deshpande is a Consultant in Nephrology and Renal Transplantation at Jaslok Hospital and Research Centre, Mumbai. He also visits the Saifee Hospital located near Charni Road Station. Dr. Deshpande has over 10 years of experience, with extensive training in various areas of Nephrology and Kidney Transplantation in India and in Canada. His areas of special interest are Haemodialysis, Peritoneal Dialysis, Kidney Transplantation and Resistant Hypertension that's difficult to treat.
Dr. Deshpande has been trained in management of patients with various Renal problems such as Acute Renal Failure; Chronic Renal Failure; Hypertension; Nephrotic Syndrome; Nephritic Syndrome; Acid/Base and Electrolyte disorders; CAPD; and, Transplant patients. He has been exposed to routine and emergency management of patients admitted in other specialities with associated Renal problems and can manage all Renal emergencies.
As a dialysis resident, Dr. Deshpande gained experience in managing patients on Haemodialysis, Continuous Renal Replacement Therapy in the ICU setting, Plasmapheresis and Peritoneal Dialysis. He has also independently performed Kidney Biopsies and insertion of Haemodialysis Vascular Access.
Dr. Rushi Deshpande completed a two-year Clinical Fellowship in Nephrology at the University of Toronto in Canada (2003-05). Here he worked extensively on Continuous Renal Replacement therapy in the ICU patients, using especially the Citrate and Heparin protocols. He also taught and trained postgraduate medicine residents and participated in Nephrology conferences, seminars, journal clubs, case presentations, etc.
Subsequently, Dr. Deshpande completed a one-year Clinical Fellowship in Renal Transplantation at the University of Toronto (2005-06), accredited to the American Society of Transplantation. He did 12 months of rotation in the multi-organ transplant unit and gained valuable experience in transplant protocols and in the use of marginal donors and double kidney transplants. The transplant unit at the Toronto General Hospital is one of the largest in North America and performs both living and deceased donor transplants - the exposure to donor evaluation and all types of immunosuppression and individualisation/ minimisation protocols is excellent.
Dr. Deshpande has had training in Transplant Pathology and in the Histocompatibility lab, and also managed Kidney and Pancreas (KP) Transplant recipients. He is currently also involved in clinical and lab-based research in Kidney Transplantation.
RESEARCH
Investigator in Phase III GCP trial of Rapamune in post renal transplant patients.
Currently involved in Clinical and Laboratory-based Research in Kidney Transplantation.
Study of Clinical and Biochemical Features of ESRD in Indian Patients. [DM Nephrology Thesis]
PUBLICATIONS
The Impact of Cyclosporine on the Development of Immunosuppressive Therapy: Perspective from a Transplant Nephrologist Involved with the Development of C2. Edward Cole, Rushi Deshpande. Transplantation Proceedings. March 2004.