Dr. Gautam Tripathi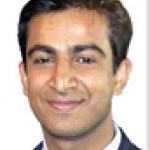 Introduction
Dr Gautam Tripathy is working at Dr L H Hiranandani Hospital as a Neurologist since December 2010.
After completing his Post Doctoral in Neurology, initially he joined as a faculty and Consultant Neurologist in Care Hospitals, Hyderabad (2008-10). He was a senior resident at the department of Neurology in the Institute of Human Behavior and Allied Sciences (IHBAS), New Delhi, and also did an observership in PGIMER, Chandigarh. He has attended national and international conferences and has various academic and extra curricular achievements to his credit. He was the topper of Pfizer Medicine quiz held in Cuttack. He has published papers on epilepsy, movement disorders etc in national / international Journals. He has been a co-investigator in international clinical trials.
His area of interest includes movement disorder including Parkinson's disease, epilepsy and stroke. He conducts botox clinics in patients of hemifacial spasm, writer's cramp, Dystonia, Migraine, etc. He has interest in Deep Brain Stimulation (DBS).