Dr Aparna Govil Bhasker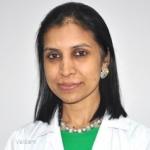 Specialization :
Bariatric surgery, Laparoscopic surgery, General surgery
Introduction
Dr. Aparna Govil Bhasker is a Bariatric and Advanced Laparoscopic GI Surgeon.
Her principal interest is in single incision surgery. She has one of the largest series of this particular type of bariatric surgeries in India.
She performs both Bariatric as well as General Laparoscopic Surgeries.
Dr A G Bhasker is one of the first surgeons in India to be accredited by the Surgical Review Corporation (SRC) as a Center for Excellence (COE) surgeon in 2011.
She completed her post- graduation in General Surgery from Mahatma Gandhi Institute of Medical Sciences, Sewagram, India in 2006.
Her fellowship in "Advanced Laparoscopy and Bariatric Surgery" at Center for Obesity and Digestive Surgery (CODS) in Mumbai was completed subsequently.
She has worked as a consultant bariatric surgeon for over 10 years and has one of the highest experience in bariatric and advanced laparoscopicsurgery in the India today.
She also has a keen interest in clinical research and in 2015, she completed a 9 months diploma on "principles and practice of clinical research" from the Harvard Medical School.
Dr. Aparna Govil Bhasker is the Chairperson for the Position Statement Committee of the Asia Pacific Chapter of International Federation for Obesity and Metabolic Surgery (IFSO-APC). She is an invited speaker at many national and international conferences. She has performed live surgeries at conferences and training programs at national level.
She has a keen interest in research and academics and has published many papers in peer reviewed journals. She is the co-author of a "Silver Book on Sleeve Gastrectomy" which was published in 2016. She has also authored chapters in many text books of surgery.
LIST OF TREATMENTS
Gastric Bypass Surgery
Gastric Banding Surgery
Duodenal Switch
Gastric Sleeve Surgery
laparoscopic biliopancreatic diversion
Anti Aging and Weight Loss Stem Cells Therapy
maestro rechargeable system
Bariatric Surgery for Weight Loss
Abdomino - Perineal Resection
Abscess - Intra Abdominal
Abscess - Pelvic
Abscess - Subphrenic
Amputation - Above Knee
Amputation - Below Knee
Amputation - Toe
Breast - Wide Excision and Axillary Sample
Mastectomy
Mastectomy - Male Subcutaneuos
Cholecystectomy - Gall Bladder Removal
Epididymal Cyst Removal
Hernia Repair - Epigastric
Hernia Repair - Femoral
Inguinal Hernia Repair
Hydrocele Operation - Adult
Pilonidal Sinus
Spleen Removal - Splenectomy
Aortic Aneurysm
Femoral Embolectomy
Femoro-Femoral Bypass
Varicose Ulcer Treatment
Varicose Vein Removal
Haemorrhoids Treatment
Stapled Haemorrhoidectomy (Piles)
appendicitis Treatment