Dr. Sameer Diwale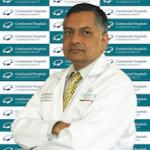 Introduction
Dr. Sameer Diwale the HOD and a Senior Consultant Adult Cardiovascular & Thoracic surgeon, Department of CTVS, Continental Hospitals. He has successfully performed over 7000 heart surgeries. His expertise is beyond a regular cardiothoracic surgeon as he excels in doing beating heart, total arterial grafts for bypass surgery (CABG) that leads to patency of the grafts for 20+ years. This surgical skill is deemed to be rare in our country. Dr. Diwale operates on a large number of overseas patients and is held in high esteem amongst patients from the CIS (Central Asian) and south-central African countries. Dr. Diwale area of expertise are Adult cardiac surgeries like on and of pump coronary bypass surgery.
AREA OF INTERESTS
Extensive experience Complex Mitral Valve Repairs, Aortic Root Operations, Open and Endovascular surgery on the Aorta Hybrid procedures and Minimally Invasive Surgery.
High risk procedures like Valve-CABG, acute Ischemic Mitral Regurgitation repairs and post Renal Transplant CABGs
Complex valve surgeries including valve replacement with stentless bioprosthses, homografts, and Adult congenitals and redo- surgeries.
Heart surgery for atrial fibrillation Aortic surgery including aneurysm and dissection repairs, Pulmonary resections and decortications, Endoscopic radial/vein harvesting.
Fellowships and Memberships
Fellowship in Cardiac Surgery