Dr. Naresh Trehan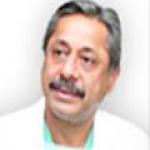 Introduction
Dr. Naresh Trehan, a graduate from King George Medical College, is a renowned Cardiovascular and Cardiothoracic surgeon, trained and practiced at New York University Medical Centre Manhattan USA. He is also recognized by the American Board of Surgery and the American Board of Cardiothoracic Surgery. Dr Naresh Trehan is the Chairman & Managing Director, Medanta - The Medicity, a 1500 bedded multi super speciality institute, which offers cutting edge technology and state of art treatment facilities at an affordable cost. The Institute is governed under the guiding principles of providing medical services to patients with care, compassion and commitment. Before living his dream, Dr. Trehan was the executive director and founder of the Escorts Heart Institute and Research Centre, the centre was conceptualized, created and managed by Dr. Trehan (from 1987 to May 2007). He has received many prestigious awards, including the Padma Shree and the Padma Bhushan Award, presented by the Government of India. He was the President of the International Society for Minimally Invasive Cardiac Surgery (ISMICS), Minneapolis, USA 2004-05 and has also received Honorary Doctorate Degrees from three prestigious universities.
Experience
Senior Consultant Cardiovascular Surgery at Apollo Hospital, Sarita Vihar, New Delhi from June 2007 to December 2009.
Executive Director and Chief Cardiothoracic and Vascular Surgeon, Escorts Heart Institute and Research Centre, Okhla Road, New Delhi, from 1988 & 2007
Appointed as Personal Surgeon to the President of India with effect from June, 1991.
Appointed as Honorary Consultant to the Cromwell Hospital, London U.K., with effect from March, 1994.
Appointed as Honorary Visiting Professor, Cardiovascular Surgery, LPS Institute of Cardiology, Kanpur (U.P.) with effect from June, 1996.
Appointed as Honorary Consultant, Cardiothoracic Surgery, to the Armed Forces Medical Services, with effect from March, 1997.
Appointed as Honorary Visiting Professor of Surgery, Bangladesh Medical College, Dhaka with effect from April, 2000.
Asstt. Professor of Surgery, New York University Medical Center, New York, USA, 1981-1988
Clinical Instructor in Surgery, New York University Medical Center, New York, USA, 1971-1974
Teaching Assistant in Surgery, New York University Medical Center, New York, USA, 1971-1974
Attending Cardiothoracic Surgeon, New York University Medical Center, New York, U.S.A., 1979-1988
Attending Cardiothoracic Surgeon and Consultant, Bellevue Hospital of the city of New York, U.S.A.
Chief Thoracic and Cardiovascular Surgery, Veterans Administration Hospital (Manhattan), U.S.A.
Attending Cardiothoracic Surgeon, New York Infirmary-Beekman Downtown Hospital, New York, U.S.A., 1979-1988
Attending Cardiothoracic Surgeon, St. Vincent's Hospital and Medical Center, New York, U.S.A., 1979-1988
Fellowships and Memberships
President of the International Society for Minimally Invasive Cardiac Surgery (ISMICS), Minneapolis, USA. 2004-05 Member of Society of Thoracic Surgeons of U.S.A. Member of the Scientific Council of the American College of Angiology, U.S.A. Fellow Royal Society of Medicine, London. Fellow American College of Surgeons, USA. Fellow International Medical Sciences Academy. Member of Board of Directors of the International Society for Minimally Invasive Cardiac Surgery, Minneapolis, USA. Appointed as member of the Editorial Board of the Journal "Heart Surgery Forum", Charlottesville, VA, USA. Council Member of Association of Thoracic and Cardiovascular Surgeons of Asia. Member of The European Association for Cardio-thoracic Surgery. Chairman, Confederation of Indian Industries - Healthcare Industry Committee. President, Indian Health Care Federation. Member, Key Advisory Group, Ministry of Health and Family Welfare, Govt. of India. Vice Chairman, Services Export Promotion Council, Govt. of India. Member, Task Force on Skill Development, XIth Five Year Plan, Planning Commission, Govt. of India. Member, Governing Council TIFAC (Technology Information, Forecasting & Assessment Council), New Delhi Member, Institute Body of Sanjay Gandhi Post Graduate Institute of Medical Sciences, Lucknow from 1996-2001. Member, Governing Council of Sri Jayadeva Institute of Cardiology, Bangalore, India.
Awards and Achievements
Lal Bahadur Shastri National Award conferred by President of India, for excellence in Public Administration, Academics and Management for the year 2005.
Dr. B. C. Roy National Award for the year 2005 in the category of "Eminent Medical Person.
Life Time Achievement Award - 2002 by the International Society of Cardiovascular Ultrasound.
Jewel of India in the Millennium by the International Award Committee of Wisitex Foundation in 2002
Rashtriya Ratan Award - 2001 presented by United Indians for outstanding services, achievements and contributions in chosen field.
AMA Physician's Recognition Award by The CME Alliance at ISMICS-2001, Munich, Germany.
4th Sat Paul Mittal Annual Oration presented by Nehru Sidhant kender Trust & Dayanand Medical College & Hospital, Ludhiana on 6th March 2001.
Sir Syed National Awards 2001 from Mehfil-e-Sanam, Urdu Monthly.
Indira Gandhi Millennium Award-2000 from All India Feroze Gandhi Memorial Society.
IMA Dr. K. Sharan Cardiology Excellence Award from Indian Medical Association in 2000.
Life Time Achievement Award-1999 from International Medical Integration Council in recognition of the pioneering work done in developing new surgical techniques.
Distinguished Service Award in Hypertensive Vision-96 Conference, New Delhi, Feb.1996.
Rotary Ratna Award from Rotary International (Distt. 3120) in 1996.
India International Gold Award- 1995 from NRI Institute.
Lok Seva Award - 1995 in recognition of outstanding performance.
Rajiv Gandhi National Unity Award - 1995 for excellence, presented for outstanding services, achievements and contributions.
Order of Merit for Management - Samajshree Award 1995 from Indian Council of Management Executives, Bombay.
Sushruta Award 1994 at New York from the Association of Indians in America in recognition of excellence in research, teaching, community service and establishment of Escorts Heart Institute & Research Centre a premier institution for cardiac surgery in New Delhi, India.
International Business Acumen Award 1993 on July 25th, 1994 by International Business Council.
Distinguished Service Award 1994, by IMA, New Delhi Branch Chapter of IMA Academy of Medical Specialities, for the services to the Profession and the Nation.
The Great Son of the Soil by All India Conference of Intellectuals - 1993 National Intellectuals' Award.
Distinguished Service Award 1993 by IMA Academy of Medical Specialities for continuing, selfless, dedicated and devoted services to the medical profession and the community.
Mother India International Award- 1992 by NRI Institute.
Shiromani Award for the year 1992 for outstanding achievements in the field of cardiovascular surgery.
T.P. Jhunjhunwala Foundation Award for the year 1992-93 for deep commitment and untiring efforts to achieve international standards in cardiac surgery in India.
Yuva Shakti Organisation Jaipur Award for outstanding contribution in the field of Cardiac Surgery in India, 1992.
National Institute of Punjab Studies Bhai Vir Singh International Award for unique contribution in the field of Medicine.
Nagrik Club Jaipur Award for distinguished services in the field of Cardiac Surgery, 1991.
Joshi Award by Delhi Medical Association 1989.
Alumni Award of KG Medical College Lucknow 1989.
National Integration Council Award 1988.