Dr. Sudhir Dubey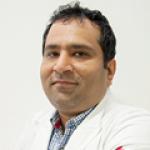 Education :
MBBS, M.Ch (Neurosurgery)
Specialization :
Minimally Invasive Neurosurgery
Introduction
Dr. Sudhir Dubey graduated from King George's Medical College with "Sir Rupkishan Das Gold Medal" for final year MBBS class in 1995. He received his basic neurosurgical training from National Institute of Mental Health and Neurosciences. His cutting edge work on "brain tumor" was awarded internationally at Sydney, Australia in 2001. He received "Silver Jubilee Award" for best outgoing student in Neurosurgery, NIMHANS. He is first and till now the only person from India to be awarded "Young Neurosurgeon's Award" conferred by World Federation of Neurosurgical Societies.
His interest in Endoneurosurgery (Endoscopic Neurosurgery) started in 1998 and he has developed these techniques for brain, skull base and spine. He has been trained at UPMC Pittsburgh, USA for endoscopic skull base procedures. His passion to develop minimally invasive neurosurgery has taken him to various centers in North America and South Korea. He has also undergone training for Cyber-Knife in San Francisco California.
His strong commitment to community service, values and responsibility has made him work for victims of Bhopal Gas tragedy at Bhopal Memorial Hospital and Research Centre.
He has been training the trainers. He has conducted live operative surgeries , Cadaver skull base surgery courses, Cadaver Minimally invasive spine surgery courses, Spine courses in saw bone models. He has trained more than 500 surgeons. He conducts regular free health camps for public and conducts disease awareness and treatment lectures for general practioners across the length and width of the country
He is an executive editor of Journal of Cranio- Maxillary surgery. He has reviewed various articles in journals. He has more than 100 publications in Journals, Chapters in Books and Presentations.
Presently he is working as Director and Head Minimally Invasive Neurosurgery at Medanta TheMedicity Hospital Gurgaon and performs more than 500 procedures and sees more than 6000 patients annually
Fellowships and Memberships
Congress of Neurological Surgeons, USA
International Society of Neuro-Oncology
Neurological Society of India
Indian Medical Association
Minimally Invasive Spinal Surgeons of India
Awards and Achievements
Young Neurosurgeon's Award" conferred by World Federation of
Neurosurgical Societies
"Silver Jubliee Award" for best outgoing student in Neurosurgery, NIMHANS
"Sir Rupkishan Das Gold Medal" for final year MBBS class, KGMC
Merit Scholarship in MBBS, KGMC
Science Talent Scholarship (St Xavier's School, Delhi)
Member of Academic Council, NIMHANS
Unique Contribution
IndiraB, Dubey.S, Fracture Occipital Condyle with Isolated XII Nerve Palsy. Neurology India, 48: Mar 2000, 93-94.
Dubey S, Indira B, Jawalkar V.K., BhatD.I..Tuberculoma en plaque: A case report. Neurol India 2002:50:497-499.
Vani Santosh, Shankar SK, Dubey S, Chandramouli BA. Tumor markers in Neurooncology: Diagnostic and Prognostic significance in Recurrence. In A K Singh (Ed) Indian Clinical Neurosurgery. Volume 2. 2001 (In press)
Dubey S, Jha A, Mittal A. Endoscopic surgery of the ventral Skull Base: Cadaver laboratory to anatomical model to real time. In Progress in Clinical Neurosciences. Editor Banerji D, Pauranik A. Byword Books Delhi. Volume 24, Chapter 12, 129-137;2010
Narang KS, Dubey S, Gupta A, Jha A, Mittal A..Intra Operative Image Guidance and its impact and outcomes In Progress in Clinical Neurosciences. Editor Banerji D, Pauranik A. Byword Books Delhi. Volume 26, Chapter 12, 138-147;2013
Dubey S, Goel P. Osteoporotic Vertebral Compression Fracture. Role of conservative Management. In Progress in Clinical Neurosciences. Editor Banerji D, Pauranik A. Thieme. Volume 29, Chapter 17, 10-17;2015
ChowdhuryT, Sapra H, Dubey S. In Severe hypotension in transforaminal lumbar interbody fusion surgery: Is it vasovagal or? Asian Journal of Neurosurgery.2013
Sharma B, Dubey S, Gaur N. Revisiting the Medical Internship Programme for India. Pediatric Education and Research. Volume 4, Issue 2, May-Aug 2016, Pages 131-132
Sharma B, Dubey S, Gaur N. Modification in Indian Medical Education Plan: Need of the Decade. Indian Journal of Trauma and Emergency Pediatrics Volume 7 Number 3-4, July - December 2015; 101-103
S. Kolluri, S Dubey, Chandramouli BA, Das B.S, Influence of anomalies of circle of Willis on outcome following surgery in patients with anterior communicating artery aneurysm. Br. J of NS, 15(6) 2001, 542
Dubey S, Chandramouli, B A. Sastry KVR, Santosh V. Recurrent Neuro epithelial tumors: A Clinoco Biological Study. Proceeding of th 12th World Congress of Neurosurgeon (WFNS) 16-20 Septemaber 2001, Sydney, Australia, Open Book publisher, Adelaide, Australia. 2001