Dr. Prashant Nair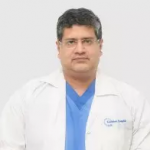 Introduction
Dr. Prashant Nair is an Interventional Cardiologist at Kokilaben Hospital. He has performed more than 5000 Cardiac Cath procedures at Kokilaben Hospital so far.
Dr. Prashant Nair had his post graduate and super specialty medical training at T. N. Medical College & B. Y. L. Nair Hospital in Mumbai. In addition, he has trained in one of the best institutes in the world in the field of Interventional Cardiology at Haifa, Israel. Subsequently he joined B. Y. L. Nair Hospital as Lecturer and then Associate Professor in Cardiology.
KDAH Experience:
He has been associated with the institution for more than 7 years.
Expertise
Adult Interventional Cardiology
Services Offered
Management of Angina Pectoris, Arrhythmia, Atherosclerosis, Cardiomyopathy, Coronary Artery Disease, Heart Failure, Hypertension, Myocardial Infarction, Peripheral Artery Disease
Professional Highlights:
Dr. Prashant Nair has several publications in national and international journals.
Fellowships and Memberships
Rambam Medical Centre- Haifa, Israel