Dr. Amit Hooda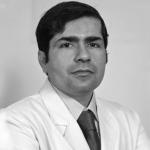 Introduction
He has vast experience in trans-radial coronary and peripheral interventions as well as structural heart disease interventions. He had previously worked as faculty at prestigious Christian Medical College, Vellore . He has keen interest in FFR and IVUS guided interventions. He has keen interest in managing heart failure patients undergoing cardiac transplantation and mechanical circulatory devices like LVADs. He has illustrious academic career at graduate and postgraduate level. He has been invited as faculty at various national and international conferences.
Speciality Interests:
Transradial coronary and peripheral Interventions including Rotablation
FFR, IVUS guided interventions
Heart Failure with special interest in cardiac transplant and mechanical circulatory devices like LVADs
Structural heart interventions like BMV, BPV, ASD/PDA device closures
Pacing, ICD, CRTD
Assistant Professor at Christian Medical College, Vellore, Tamil Nadu September 2013-14
Associate Consultant at Fortis Hospital, Gurgaon since August 2014
Fellowships and Memberships
Life member of Cardiology Society of India
Member of European association of Percutaneous coronary Interventions
Awards and Achievements
Dr George Cherian Medal for Best DM cardiology student 2013
Awarded scholarship for presentation at satellite meet of WCN, Hongkong 2013
Invited Faculty and speaker at various National and International meetings like EuroPCR Paris, TCT India NEXT, TCTAP Korea, NIC
Best Case Award at Indo-Japanese CTO me
et 2015
Unique Contribution
Actively involved in research and clinical activities. Published numerous articles in national and international journals.
Joseph G, Hooda A, Thomson VS. Contralateral approach to iliac artery recanalization with kissing nitinol stents present in the aortic bifurcation. Indian Heart J. 2015;67(6):561-4.
David Chase, Vipin Kumar, Amit Hooda. Dual-site right ventricular and left ventricular pacing in a patient with left ventricular systolic dysfunction and atrial fibrillation using a standard CRT-D device. J Saudi Heart Assoc. 2013; 25(3):213-8.
Hooda Amit, Pati P,John Bobby, George Paul. Disseminated Mycobacterium chelonae infection causing pacemaker lead endocarditis in immunocompetent host. BMJ Case Rep. 2014 Dec 22;2014.
Brajesh Kumar Kunwar, Amit Hooda, George Joseph. Recent trends in reperfusion in ST elevation myocardial infarction in a South Indian tier-3 city. IHJ 2012; 64: 368-373.
Paul V. George, Amit Hooda, Purinder K. Pati, Lijo Varghese, Anandroop Lahiri. Effect of a Government Scheme on Reperfusion Trends in a tertiary care centre in South India. Indian Heart Journal 66 (2014) pp. 503-505.