Dr. Ramesh Sen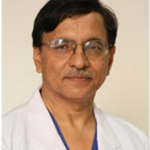 Introduction
Dr Sen, MS, DNB, PhD (Orthopaedics), is a stalwart in the field of Orthopaedic Surgery. He has over 20 years of experience as Faculty at PGIMER-Chandigarh. He was elevated as Professor in the Department of Orthopaedics, PGIMER, in 2008. Dr Sen has extensive surgical experience in management of pelvi-acetabular injuries, primary & revision and knee replacements and complex trauma. He has also pioneered the role of Stem Cell treatment in AVN disease of the hip joint.
Designation: Director
Previous experience: After getting basic orthopaedic education from India, Prof Sen received his further training in Germany and USA. He worked at PGIMER for 20 years and took voluntary retirement from there in 2014, while he was working as Professor in the Department of Orthopaedics.
Fellowships and Memberships
Prof Sen has been the Chairperson of Research Foundation as well as Vice President of IOA. Holds the membership of 5 international scientific associations and 10 national scientific associations.
PANELIST in 'Int. Congress Knee and Sports Medicine' in Yokohama JAPAN in 1989
AO Fellowship (Switzerland) in Ulm, GERMANY from 31st August to 20th Nov. 1998
BEST FELLOW AWARD in BIOSKILL COURSE in HONGKONG . 7-9th July 2001.
IOS (UK) FELLOWSHIP UK hospitals BOA 2008 Liverpool. 14th-27th sept 2008.UK
AADO (Hong Kong) Scholarship for European Traumatology Congress Amsterdam HOLLAND in 1998, Int. trauma Symp. Edinburgh UK in 2003, Pelvic Trauma Course HONGKONG 2004 & OTA meeting of USA 2008 USA
IOA INOR Foreign Fellowship for BOA Glasgow 2006 UK 26-28th Sept 2006
Johnson & Johnson Traveling Fellowship Awarded 1992 by Ind. Ortho Assoc.
E Merck Fellowship Awarded for 1989 by Bombay Orthopaedics Society
"Best Research Award" by North Zone Ortho Assoc in 1988 at CMC Ludhiana
Awards and Achievements
OASAC (Ortho Surgeons of SAARC) Oration Award COLOMBO 27th Oct 2012
Baroda Ortho. Society Oration Award 22nd Sept 2007 Baroda
1st Golden Jubilee Commemoration Oration in IOACON 2008 at Bangalore on 5th Dec 2008 by Indian Orthopedic Association
Prof BB Ohri Oration award MP Chapter IOA 4th Oct 2008 Indore
Gaziabad Oration of UP Chapter 2010, 20th feb Allahabad
Prof G Swaminathhan Oration 2011 Govt. Rajaji Hosp Madurai T&N on 5.3.2011
Dr M L Chatterjee Oration WBOA chapter July 14th 2013 Kolkatta
Dr Mahurkar Oration Award CHIOA on Sept 28th 2013 Bhilai
Unique Contribution
Medical Breakthroughs/Interesting Case Studies: Patent in New Pelvic plate for reconstruction of acetabulum fractures.