Dr. HK Bali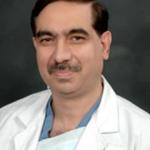 Introduction
Dr. H.K. Bali completed his MBBS in 1981 from Jammu University and accomplished his MD (Medicine) in 1985 and DM (Cardiology) in 1988, both from PGIMER, Chandigarh. A renowned cardiologist, Dr. Bali served for over 25 years at PGIMER Chandigarh, where he was associated as the Additional Professor prior to joining Fortis Healthcare. Dr. Bali has also officiated as Senior Cardiologist and Coordinator of the Department of Cardiology (On-Ex- India Leave), at Apollo Hospital, Colombo, Sri Lanka from December 2004 to February 2006.
Clinical Interests:
Coronary artery disease (Elective and Primary PCI)
Devices in Management of Advanced Heart Failure-Biventricular pacemaker (CRT), Combo Device (CRT-D ) and ICDs
Endovascular treatment of
Takayasu arthritis
Carotid artery disease
Aortic disease
Subclavian artery disease
Peripheral arterial disease (lilac, aortoiliac and superficial femoral artery (SFA)
Below knee interventions(BKI)
Fellowships and Memberships
CSI (cardiology Society of India)
Indian Menopause Society (IMS)
Life Governor – Endovascular Intervention Society of India
Awards and Achievements
He was awarded Kataria Memorial gold medal in 1985, the highest academic award of PGI, Chandigarh. The award is given to the best all-rounder student for outstanding performance in academics, research, extracurricular activities and for bringing name and fame to the institution.
In 1990 he was awarded D P Basu award by the Cardiological Society of India (CSI) for being the Best Young Investigator of the year.
Unique Contribution
Successful multivessel PTCA through radial route in a patient with dual LAD type IV and anomalous LCx from RCA – A rare triple whammy of coronary artery anomalies.
Heart Failure – A raging epidemic and the growing role of CRT.