Dr. Rahul Kakodkar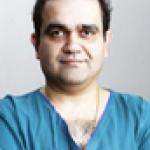 Introduction
Dr Rahul Kakodkar had the good fortune of training under doyens in the field of hepatobiliary surgery and liver transplantation in India. With nearly 15 years experience in complex gastrointestinal, liver, bile duct and pancreatic surgery and over 12 years of experience in liver transplantation from both deceased and living donors under his belt, Dr Rahul is one of the most experienced surgeons in Mumbai in this discipline.
He has worked as senior consultant or center head at high-volume liver centers in New Delhi, Gurgaon, Hyderabad and Mumbai before joining Dr LH Hiranandani Hospital. He is associated with many firsts in liver transplant in India including dual-lobe transplant, ABO incompatible transplant and transplant chain. He holds the record for successfully performing a deceased donor transplant using liver from the oldest donor in west India in 2013. He has over 15 published papers and over 75 published abstracts (some of which have received best paper awards) and is a frequently invited faculty speaker nationally and internationally. His special areas of interest are cholangiocarcinoma, liver transplantation using small size grafts and colorectal liver metastasis.
Dr Rahul Kakodkar performs liver transplants and complex hepatobiliary procedures in collaboration with an experienced team of surgeons and conducts regular outpatient clinics at Dr LH Hiranandani Hospital.