Dr. Ganesh K Murthy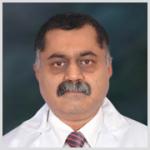 Introduction
Work Experience
Dr. Ganesh K Murthy is a consultant neurosurgeon at Apollo hospitals, Bangalore. He has experience in endoscope assisted surgery & computer navigated surgery.
Expert in performing Endoscope assisted surgery and computer navigated surgery. Adept in treatment of tumors. Has worked as Clinical Associate at Hinduja Hospital , Assistant Professor at SVIMS, Tirupathi and Senior Consultant at Sri Satya Institute Of Higher Medical Sciences Bangalore
Special Interests
Pediatric tumors.
Spinal cord tumors.
Trauma.
Endoscopic assisted surgery.
Computer navigated surgery .
Unique Contribution
Expert in performing Endoscope assisted surgery and computer navigated surgery. Adept in treatment of tumors. Has worked as Clinical Associate at Hinduja Hospital , Assistant Professor at SVIMS, Tirupathi and Senior Consultant at Sri Satya Institute Of Higher Medical Sciences Bangalore
"Combined anterior and posterior decompression and short segment fixation for unstable burst fractures in dorso lumbar region.
Ramani P.S, Singhania BK, Murthy G – Neurol India 2002: 50 272 – 8
Isolated intracranial Rosai dorfman disease masquerading as meningioma : a case report.
Ghosal N, Murthy G, Vishvanathan .K, Sridhar M, Hegde A.S
Indian J Pathol Microbiol 2007 April; 50 (2): 382-4
Cerebral calculi in the temporal horn of the lateral ventricle: Report of an unusual case. Ghosal N, Thakre D. Murthy G, Hegde A.S.
Histopathology 2007 May; 50 (6) 817-8
Recurrent posterior fossa anaplastic ependymoma with prominent chondroid metaplasia – a case report and review of literature.
Ghosal N, Murthy G,
Dadlani R, Hegde A.S.
India journal of pathol and microbiol 2010 Oct – Dec 53 (4) 787-9
Primary malignant ganglioglioma,dorso lumbar spine (D11-L1)-a case report.
Ghosal N, Dadlani R, Murthy G, Hegde A.S
Journal of Clinical neuro science 2010 Dec 17 (12) 1597-9"